Round Robin on performance of test tables
print
Test table trials for observing moisture performance and risk of biological decay
The performance of wood products is of major concern to end users. It is well known that the risk of biological attack is increased with high moisture content, which may be due to the natural properties of the wood or due to poor design. To help understand performance and decay risk, there have been several tests in recent years looking at long term moisture performance. This round robin study will build on these studies by exposing similar test rigs at various sites, so that local climate risks can be determined, as well as understanding the long term surface performance of the material (both its durability and aesthetical performance).
The initial information for the round robin trial can be found here.
A total of 49 tables have been prepared and exposure will start at all sites across Europe on September 1st, 2014. The locations are shown on the map below. This will allow maximum opportunity for gathering important data on moisture performance and aesthetical appearance during the duration of the COST Action. Studies will continue beyond the time frame of the Action.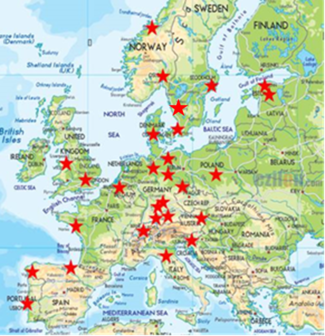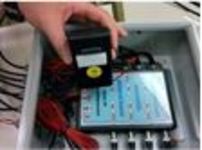 Two papers have been published within the International Research Group on Wood Protection (IRG) conferences recently:
Introduction of the COST FP 1303 Cooperative Performance Test
2015 - M Humar, C Brischke, L Meyer, B Lesar, N Thaler, D Jones, S Bardage, C Belloncle, J Van den Bulcke, J M Abascal, G Alfredsen, D Baisch, B Brunnhuber, G Cofta, E Grodås, E Frühwald Hansson, M Irle, H Kallakas, J Kers, M Klamer, P Larsson Brelid, A B Maider, K C Mahnert, E Melcher, R Möller, M Noël, L Nunes, G A Ormondroyd, S Palanti, N Pfabigan, A Pilgård, A O Rapp, P Schumacher, E Suttie, T Teppand, M Touza, J Van Acker
COST FP 1303 Cooperative Performance Test – Results after two years outdoor exposure
2017 - B Lesar, M Humar, C Brischke, L Meyer-Veltrup, D Jones, N Thaler, J M Abascal, G Alfredsen,B Brunnhuber, E Grodås, M Irle, J Kers,M Klamer, K-C Mahnert, E Melcher, S Palanti, M Noël, E Suttie, N Pfabigan, M Touza
Further details about the performance table can be obtained from Christian Brischke or Miha Humar.